Posts Tagged 'technology'
March 3rd, 2016 by Christen Careers in technology are booming bigger than ever before.  While women are still in the minority of those holding top tech spots, we've got a huge push in cities outside of Silicon Valley and beyond.   Last year, 
SmartAsset's analysis of Census Bureau data
 found that women hold less than 26% of tech jobs in the U.S. and on average earn just 85% of what men in those positions earn. At many of the major employers in these cities, the gap is even larger. Here are the most recent diversity statistics from several notable tech industry leaders: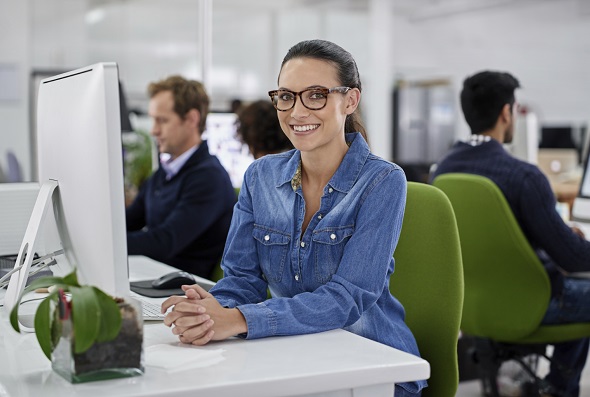 Last year, 
SmartAsset's analysis of Census Bureau data
found that women hold less than 26% of tech jobs in the U.S. and on average earn just 85% of what men in those positions earn. We further found that in many top tech cities, the numbers are worse. In San Francisco, for example, just 21% of tech workers were women. At many of the major employers in these cities, the gap is even larger. Here are the most recent diversity statistics from several notable tech industry leaders:
Twitter: women hold 13% of technical positions.
Amazon: women hold 11% of technical positions.
Google: women hold 18% of technical positions.
Microsoft: women hold 16.9% of technical positions
Apple: women hold 22% of technical positions.
Facebook: women hold 16% of technical positions.
So what are the top 5 cities for women in technology?  Washington DC, Kansas City, MS, Detroit, MI, Baltimore, MD, and Indianapolis, IN.
Are you surprised at which cities made the list?  Would you consider moving anytime soon?  Tweet us your thoughts about the findings at
@DivasandDorks
and discover the full metrics behind how each city has been ranked and more
here
.
February 12th, 2015 by Tech Staff
Looking for love in all the wrong places? Why not let technology do the work for you!
Nearly 97% of consumers will use tech to find the right gift for their loved ones.  Technology is more important to our love lives than many of us think!
Recently,
Verizon
conducted a study that explored how our use of technology affects how we celebrate on the biggest holidays of the year - Valentine's Day!  According to the survey, more than half of those surveyed communicate via technology on Valentine's Day and the majority of folks (79%) will send some form of electronic wish rather than the old-fashioned paper card – I know, kind of sad. And when it comes to romancing your Valentine, technology puts it all at our fingertips. In fact, this year on Valentine's Day, 82% of those surveyed are likely to get a restaurant recommendation or make a restaurant reservation using their electronic device and 97% are likely to use their electronic device to find the perfect Valentine's Day gift. But what will they purchase? A whopping 80% are likely to surprise their loved ones with some form of technology this year.
Discover more details and let us know how you'll show someone you love them using technology in the comments section below!
January 29th, 2015 by Christen
An article that shines light on the dark side of Silicon Valley may have just caused more harm than good.  In the latest issue of the widely read Newsweek magazine, a cover illustration has kicked up a firestorm of critics and negative shares.  Although the article cover insights intrigue and will more than likely affect newsstand sales, it overcasts the content which highlights
glass ceilings
,
gang-bang
interviews and more.  Check out an excerpt below:
A recent report on women entrepreneurs by the Kauffman Foundation identified the chief challenges to female entrepreneurship. Researchers interviewed 350 female entrepreneurs, and most cited "lack of available advisers" at the top of their list. Female professional attrition is only one reason for the scarcity of mentors for younger women. Another is that women who stay in the game beyond their late 30s may be less subject to sexual harassment than their younger counterparts, but they are sidelined by virulent ageism in the industry that especially—but not solely—afflicts women.

Younger women, setting out on careers in tech, are furious. One group wrote a scathing "Open Letter to Tech" last year complaining about regular "rape-y emails" and professional exclusion.

Shanley Kane is a young tech industry observer and founder of Model View Culture, an acid-penned, widely read website on which she routinely exposes and excoriates the white brogrammer establishment. In an interview with MIT Technology Review in December, she said venture capitalists talk about the need to get 10-year-old girls into science in order to bring up the numbers of women they will fund, but don't fund the ones already in the industry. "We are not getting hired, and we are not getting promoted, and we are being systematically driven out of the industry," she said.

Asked what women should do, Kane wasn't encouraging: "I don't have a lot of advice. There's not a whole lot you can do to keep your career from being crushed by misogyny."
Read more from the original Newsweek article here.
What do you think about sexism in the technology community?  How do you interpret this cover illustration? Does it help convey the content message or is it Newsweek's "cheeky" and "cheap" strategy for more magazine sales?  Share your thoughts below...
January 28th, 2015 by Tech Staff Looking for the best way to step up your business productivity?  There's no better time to evaluate your professional strategy and it all starts with going mobile!  The world of business is a very demanding place - pressure to perform well and climb the corporate ladder is everywhere, schedules are hectic, and it's easy to be disorganized if we don't plan things well. Our schedules account for a lot of things for the business, travel to meetings, and to grow and maintain a network of clients, suppliers, and more. You don't have to be overwhelmed, simply utilize some of the top apps business professionals use and begin to make your life a whole lot easier.  Discover just a few of our favorite apps below!
LinkedIn
Building a network is one of the most important steps in being successful in business, and LinkedIn is one of the best business apps for professionals. The app has the same functions as the website has, like discussing in your groups, and checking out people's profiles, but the platform and format is tailored for the iPhone so it is more easy and comfortable to use. Whether you are a new college graduate or a seasoned vet of your industry, the LinkedIn app is a must have.
Camcard
This app helps you store and organize your business cards. By utilizing the iPhone's camera, it recognizes the information on the business card and stores the data to its address book. All you have to do is take a picture of the business card, and Camcard will extract the name, address, and other contact information. It's useful when you have a lot of business cards and you do not want to bring them everywhere you go.
Expensify
If you are managing business expenses, or you just want to effectively manage your budget and resources, Expensify is a great app to use. It can store and track your receipts and easily make expense reports. It also tracks mileage for business or personal travel. For expenses, you take a picture of the receipt and then choose the report where the receipt will be accounted (in which report and category). It is the most convenient app for creating expense reports and will save you from a lot of stress.
TripIt
One of the best apps for business professionals who regularly travel, TripIt in itself is very unique. You send an confirmation email to plans@tripit.com and it will send you a detailed itinerary of your trip before you leave. This app can locate and manage hotel check ins, car and other rental services and all the things that go along with travel. You can also sync your trips to your other organizing apps, and edit them. There's a paid and free version of TripIt, but either way, it is highly recommended app for business or personal travels.
SignEasy
This app does one of the most important things in business - which is enabling you to easily and conveniently put your signature to documents such as contracts, receipts, reports, agreements, and papers in PDF. SignEasy saves you from a lot of headaches on having to scan your signatures and place them on documents because you can do it directly through the app. This is for every business professional who wishes to sign documents and store them in a fast and easy way. Some of these apps are free and some have a price, but one things is sure - these apps will surely be of great use as you continue in your business. Life will be more convenient and you can focus more on doing great in your company and other important things.
What apps are you currently using for corporate or your small business ventures?  Share your favorite apps in the comment section below!
January 15th, 2015 by Christen As you bid farewell to the holidays and say hello to a prosperous new year, it's all about what you want to change, upgrade and do better. Health and well-being are always the first things that come to mind, but don't overlook how to declutter your home. In fact, sometimes it's the first place to start – from a total overhaul to the simplest design changes. Those major or minor design decisions can really impact not only how you live, but also the health and happiness of you, your family and your home. "As we move in to the New Year, it's about embracing function but also creating a space that's a strong reflection of the people who live there," says Nate Berkus, renowned decorator, designer and artistic advisor to LG Studio. "Forget fleeting trends – 2015 is all about integrating thoughtful elements that have a lasting impact," adds Berkus, who offers these tips:
How To Declutter Your Home
The first thing, and maybe the most important, is to clean the house. Don't underestimate how important that is, and what a difference it will make! Next, clean up the clutter. Getting rid of all the clutter, which has probably been piling up all year, will allow a room to really shine again. It's all about editing – throw out what no longer works to make room for things that are necessary to live well.
Streamline your tech with a 2-in-1 laptop.
Toshiba - Satellite Radius 11.6" Touch-Screen Laptop ($379)
Easily browse media and Web content with this
Toshiba Satellite Radius
L15W-B1302 laptop, which features an 11.6" high-definition 10-point multitouch display with TruBrite technology that simplifies navigation and offers crisp images.
Scan away your clutter.
 Hp - Scanjet Flatbed Scanner ($219)
Scan multiple photos, slides, film and negatives and get superior color accuracy with 6-color, 96-bit scanning - exclusive to HP. Capture every detail with 4800 x 9600-dpi hardware resolution1. Get infrared-based dust and scratch removal too. The
HP Scanjet G4050 Photo Scanner
is designed for families and photo enthusiasts with large numbers of photos, slides, negatives or medium/large format transparencies which they want to convert into professional-quality, color-accurate digital files.
Store it all in the cloud.
WD - My Cloud 3TB Personal Cloud Storage External Hard Drive ($169)
This
3TB WD My Cloud
external network-attached storage device's Gigabit Ethernet interface allows connection to your existing network, so you can easily store and access files with compatible PC, Mac, mobile phones and tablets from anywhere in your home.
Shed those paper files.
Fellowes - Powershred M-7C 7-Sheet Crosscut Shredder ($59)
Protect your information with this
Fellowes Powershred M-7C crosscut shredder
that accepts credit cards and up to 7 sheets of paper with or without staples to cut your documents into small pieces and help keep your information private.
Simplify your controls with one smart remote.
Logitech - Harmony Ultimate Home Remote ($349)
Designed for use with home entertainment and home automation devices, this
Logitech Harmony Ultimate Home
915-000237 remote integrates a full-color touch screen, motion sensing and vibration feedback for a seamless, intuitive Harmony control experience.
 Now that you have a few options to get you started on streamlining your 2015, in what other ways are you planning to get organized and get ready for a prosperous new year?  Share your organizational tips below. 
August 4th, 2014 by Christen Welcome to my bedroom, where the "magic" happens. I'm talking late night rendezvous with Roku, and where sensual evenings are set by 90s slow jams and soft lighting from my MiPow PlayBulb. Sexy huh? In a world filled with connected devices, it was only a matter of time before technology invades our most private and serene spaces, our bedrooms. Nowadays, it's all about the connected home and I'm now using tech to help me save money, improve activity and enjoy life! Looking for ways to create your very own connected home experience?  I've been able to integrate my favorite tech accessories into my bedroom without geeking it out and now I have a few suggestions on how you too can use them to stay connected in your bedroom or connected home below.
Charge Up Your Bedside Mannor with Contort Power 2 :
The Contort Power 2 USB HUB and AC Outlet is one of my favorite space saving accessories in my bedroom.  It's a great way to keep my devices charging and close by with it's 2 usb hub outlets.  The unique design transforms a standard electrical outlet from two power source outlets into three.  (Plus its my favorite grab and go accessory anytime I'm headed out to a coffee shop or on the go and need an extra outlet of power.)
The Quirky Contort Power 2 can be found for $24 at HomeDepot.com. 
Set the mood with sight and sound using the MiPow Playbulb:
When I first learned about the MiPow PlayBulb at CES in January, I never knew just how much I'd love and need this dual-purpose home accessory.  The Playbulb is a fresh new Bluetooth Smart LED speaker light allowing you to combine you light with music and control both from your mobile device.  The familiar light bulb shaped design and technology delivers a combination of stylish looks and good function in one.  It's wireless and cord-free, you simply screw it into any lamp-socket and operate it just like a normal light.  You can play music from your iOS, Android or most other Bluetooth-enabled devices and is an ideal accessory for student dorms, apartments or any small spaces in need of light and sound.
The MiPow Playbulb can be found for $79 at MiPow.com. 
Movies, Cable Tv and entertainment for days with Roku 2:
Last month, I was gifted with a Roku 2 and I really didn't give it much thought about using it.  I already binged on Orange is the New Black earlier this summer, and since that's my only reason for using Netflix, streaming entertainment wasn't too high on my priority list.  That is until, a Time Warner Cable outrage threatened my reality tv consumption for a week.  Luckily, not only does my Roku 2 offer 1000+ of entertainment channels and movies including Hulu Plus, Netflix and more - but it also streams live tv shows include in my Time Warner Cable service.
Get an upgraded TV experience with a Roku 2 available for $69 at RadioShack.com.
Control Your Home With Belkin WeMo
Who doesn't love the power to control your home automation with the press of your smartphone button?  That's exactly what Belkin WeMo gives you - the power of a connected home, one gadget at a time.  The WeMo Insight Switch sends notifications to your smart device showing how much energy your electronics are using. You also have the ability to turn your electronics on and off and monitor their behavior, all you'll need is a Wi-Fi or 3/4G connection. I use my WeMo to control my air conditioning unit and pre-cool my home on hot summer days, I also use it to control those energy sucking gadgets that consume energy even when they aren't in use.  I save money and stay connected with home automation no matter where I am.
Get started on your journey to home automation with the WeMo Insight Switch available for $49 at Belkin.com.
Stay Connected With Your TV Using The Samsung Galaxy S5
I hate it when I lose my cable TV remote control!  It happens more times that I care to count, but instead of wallowing in my failure, I simply grab my Samsung Galaxy S5 smart remote app and reconnect with my shows instantly.  
The Samsung TV Remote App lets you consolidate your remote devices and navigate the possibilities of your home entertainment system right from your Galaxy S smartphone or Galaxy Tab.  Now everything you need to maximise your entertainment experience can be controlled all in one place, making the hassle and confusion of multiple remotes a thing of the past.  (It's been a few days since I've seen my original cable remote control, and I ain't worried bout nothin! LOL)  The app is free and available in Galaxy Apps store.
What tech would you invited to create your connected home?  Share your favorite gadget finds and home automation wish list below.
April 28th, 2014 by Tech Staff
With security breaches and frequent phone hacking scandals occurring in this digital age, it's essential to know how to protect yourself from these types of fraudulent schemes. FreedomPop's CEO Stephen Stokols provides five fool-proof tips to keep your smartphone safe below.
1. Use VPN (virtual private network) app to encrypt data. 
Utilizing this defends all communication including text messages and voice calls from third- parties such as hackers, spies and eavesdroppers.
2. Use an online security app (e.g. Norton) to protect against hackers, spyware and viruses. 
Just like computers, phones are vulnerable to viruses and malware.  It's critical to use these types of apps to help ward of harmful security hazards.
3. Use a dedicated privacy phone for confidential calls.
Consider an encrypted phone for confidential calls, such as FreedomPop's Privacy Phone ($189) that runs on a specially engineered Samsung Galaxy SII, featuring 128-bit encryption used by banks and government agencies.  Nicknamed the "Snowden phone," this smartphone blocks phone contacts, call history and voice and text communication from hackers and has a feature to block unsolicited incoming calls and text messages.
4. If you want to ensure location is not tracked, make sure GPS and location settings are off. 
By enabling this feature, people can reduce the trace of their digital footprint and use the Internet anonymously wherever they are.
5. Be careful what permission you agree to when accepting Terms & Conditions for an app. 
Many sites want access to contacts, location and other sensitive info that can lead to potentially damaging setbacks. Malicious and fake websites aim to steal confidential information including passwords and other significant data that can do more harm than good. Now that you've got these fool-proof tips to keep your smartphone safe, you'll never worry about hackers or stolen data from your smartphone again.
March 23rd, 2014 by Christen
The good people at Chrysler brought hundreds of automotive journalists and social savvy bloggers into historic Louisville, Kentucky to discover the all new
2015 Chrysler 200
.  The 2015 Chrysler 200 debuted a beautiful exterior design featuring the new "face" of the Chrysler brand.  While the interior offers the Uconnect Access system leveraging advanced embedded cellular technology with the largest, intuitive and easy-to-use 8.4-inch touchscreen in its class.
With their hands on the wheel, Chrysler 200 customers also can use Uconnect Access to tap the power of the cloud. When a compatible (check UconnectPhone.com for device compatibility) Bluetooth mobile phone with the Message Access Profile (MAP) is paired, Uconnect Access will: • Announce receipt of incoming texts • Identify the senders • "Read" the messages aloud To respond or compose any new text, drivers need to simply dictate a message of 140 characters or less. The Uconnect system will send the message to a "cloud-based voice-recognition server," that converts spoken words to text and "reads" it back for accuracy before sending verbatim. And it can all be done handsfree, without having to memorize any pre-approved messages. Drivers unsure of their destination and looking for popular locations around them can use their voice to conduct a Yelp search and simply say what they are looking for. In Louisville, I linked up with
Ashley Underdale
with
Uconnect Marketing
to talk about the system and demonstrate how easy Uconnect can pair the power of your smartphone with the Chrysler 200 for the ultimate driving experience.  Check out "How To" plug into Uconnect below:
January 15th, 2014 by Nicole The survival of our species on planet earth is largely going to be determined by what happens in our cities. By 2050, 70% of the world's population will live in them.  Today's cities demand 21st century solutions to accommodate their growing populations in ways that not only maintain the quality of life, but also improve it. That's where smart cities come in. Smart cities find ways to become more efficient, to deliver more services via mobile technology, to optimize existing infrastructure, and to leverage citizen participation to create better land-use decisions and to break down bureaucracy in order to stimulate a creative, entrepreneurial economy. In short, smart cities are innovative cities.  
Are you living in America's smart cities?
More than half of people in the U.S. have smartphones.  We use them like they are attached to our body.  We talk, text, game and socialize.  The trend is that consumers need more than that.  We need smartphones to perform more personal and efficient tasks that relates to our everyday life – to keep us informed.  The Internet, smartphones, and technology innovation plus social wants, have become an integral part of our lives and smart cities are taken notice.
Cities are starting to invest more in smart technology.  Our physical surroundings are already captured by services like street cameras, Google Earth, and apps like Yelp.  Smart Cities can make extensive use of the information and technologies they have to improve the quality of life of its citizens.  Sensors and cloud apps connect transportation, healthcare, and street lights.  How does this work?  Cities are looking to placing sensors around cities to provide information about your physical environment to transmit information to your smartphones like the bus schedule at the street location where you are standing.  Smart street lights that can detect movement, monitor and display temperature, collect data on traffic patterns, and sense gun shots detection to alert law enforcement.  From GPS-enabled school buses sharing locations with a parent's smartphone to sensors that monitor and report on building conditions, smart cities and their systems are becoming increasingly connected with their inhabitants with a promise of urban intelligence and resiliency like never before. This network of connections is known in the market today as the Internet of Things.
10.  Montreal
9.  Chicago
8.  Portland, OR
7.  Vancouver
6.  Toronto
5.  New York
4.  Washington D.C.
3.  San Francisco (tied)
2.  Boston (tied)
1.  Seattle
In 2009, the Boston 
Mayor's Office of New Urban Mechanics (MONUM)
 developed a smartphone app called 
Citizens Connect
 that allows residents to quickly report public works and service needs. Bostonians can inform officials of infrastructure and service problems (using the 
SeeClickFix App
) such as potholes, streetlight failures, or graffiti via their phones, allowing the city to be far more responsive to its citizens' needs and eliminating paperwork.  As workers finish projects they record the date and time of completion, allowing residents to verify the city's responsiveness to their requests.  
source
Do you live in a smart city?  What smart tech services do they provide?
January 10th, 2014 by Christen Check out more fun from the Consumer Electronics Show in Las Vegas.  For the fourth year in a row, DivasandDorks.com will be on the ground running to show you only the biggest and brightest trends at CES 2014 - check out the video below highlighting the trends and gadgets you need to create a smart, connected home near you. This year, we've partnered with 
OnStar
 and 
General Motors
 to bring the hottest trends in tech directly to a screen near you with daily 
"trendspotting"
 videos daily on 
Fastlane.GM.com
 and 
DivasandDorks.com
.  From apps that track your sleeping habits to light bulbs that serve as speakers and alarm clocks, there's no shortage of ways to stay connected in the comfort of your own home.
Check out the full video featuring,
Belkin WeMo technology
, the
Sleep Number X12
 and 
MiPow 
below:
For more #ConnectedByOnStar CES 2014 coverage, visit: http://fastlane.gm.com/event/ces2014/